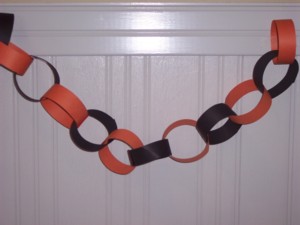 *Photo credit:
CraftElf.com
My kids are always asking me about how far it is until a birthday or upcoming holiday... and it gets a little frustrating when I've already answered the same question multiple times in one day.
I remember making paper chains as a kid; they were always so fun and helped me remember when something was coming up. With all the birthdays and holidays in the near future, I thought it might be helpful to make up some paper chains with the kids, in hopes of getting them to
stop asking me the same questions over and over again
learn a sense of time.
When I was at A.C. Moore a few weeks ago, I bought a huge 500 pack of multi-colored construction paper with a 50% off coupon (YAY for coupons!) After cutting them into 1" strips (and deciding that I need to buy a paper cutter...), the kids had plenty of fun helping me gluing the ends together. Now, they can remove one chain link every day and they'll be one more day towards whatever holiday or birthday is coming up.
We'll see if this curbs their questions, but it was still a fun thing to do! I think we'll have to do this new tradition with all the upcoming holidays.